Healthy Lifestyle Choices to Become a Productive Employee
Productivity is a very important aspect of every business. Many employees go through a great struggle in terms of being productive. The reasons for these are many. Every company looks for ways to boost the productivity of their workforce regularly.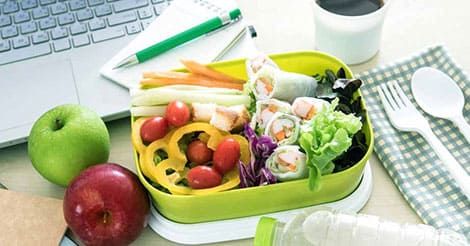 It is often observed that the main reason for low productivity at work is the unhealthy lifestyle choices of the employees. Employee's Healthy lifestyle choices lead to enhanced self-esteem and better energy levels resulting in more productivity. Health is the most important factor and only when a person is healthy mentally as well as physically, s/he can work better.
Lack of exercise, sedentary lifestyle and unhealthy food habits can lead to decrease in the productivity of the employees. A few simple tips can keep any individual healthy and increase the productivity at work.
Get Enough Sleep
According to the statistics, more than 70% of the employees do not get adequate sleep. This leads to fatigue and feeling exhausted throughout the day. Lack of sleep decreases work productivity to a great extent. It is very important to take proper 7 hours sleep every night. This will help in reducing the tiredness at the workplace. When a person is tired the brain does not function properly and hence the energy level goes down. Lack of sleep also invites many lifestyle diseases and hence one must ensure that one gets proper sleep at night. Companies can take care of employees by not allotting erratic work shifts.
Healthy breakfast
Research has shown that 50 percent of the employees skip the most important meal of the day which is breakfast. Instead of having a proper breakfast workers tend to have a snack or something unhealthy on the way to the work. Breakfast is very important as it triggers to kick start the metabolism in the body. This helps in energizing the body as well as the mind. A healthy diet will ensure increased productivity and thus it is very important to have a fixed eating schedule. The companies, which have healthy food options to choose from, benefit from it as the employees eat healthy and remain energized.
Daily Exercise
Exercising is one of the healthiest lifestyle choices that bring loads of benefits, which help, in personal as well as professional life. Exercise makes the mind alert and thus helps in focusing better. Exercising also produces certain hormones like endorphins and neurotransmitters which induce feelings of happiness, motivation, and energy. Studies show that by exercising three days in a week the mental, as well as the physical health will improve significantly. Group activities like Yoga, Zumba and Aerobics can also work as effective team building activities. That is the reason why many companies initiate wellness programs, which consist of different physical exercises along with counseling and motivational sessions etc.
Regular Health Checkups
A typical corporate wellness program also has regular health checkups for the employees, which help to detect different diseases at an early stage thus facilitating immediate medical advice for it. This saves the employee from additional pain and hassle while the company can ensure their employee gets back to work at the earliest.
The healthy workforce is the foundation of an organisation's success. Corporate health checkups coupled with suitable wellness activities ensure better health and enhanced productivity for a company. Wish to boost productivity and achieve your business aims faster? Please fill the query form and our preventive health care experts will assist you.