How to Reduce Employees Absenteeism?
In todays cutthroat competitive corporate world, optimum employee productivity plays a crucial role in the success of a business. However, the hectic lifestyle, tremendous workload influences the employees' performance ultimately reducing their productivity. It was found that about 42% UAE employees find workplace stressful, which may lead to multiple diseases like hypertension and heart cardiovascular disease. The stats are quite evident that around 4% of UAE population is clinically depressed and 40.8% of adults suffer hypertension. It is no surprise that it leads to absenteeism, which further affects the productivity and the business growth. If you have unhealthy employees, then it is obvious that, the healthcare cost will increase. Demanding work profiles, lack of employee-management bond, job insecurity, illness, and lifestyle diseases result in growing absenteeism.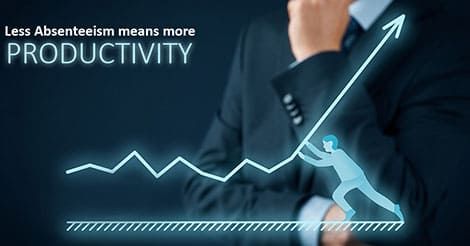 As an HR manager or as an employer, your aim must not be just to offer employees with the safe and positive work environment, but also make them work to the best of their potential and increase the overall productivity.
Strategies for Reducing Attendance Problems
Take Care of Employees Health

Having healthy workforce is important and companies need to promote health at work to have healthier employees. The employer can do several things to maintain a healthy environment in the company like arranging physical activities, giving them discounted subscriptions for the gym, diet counseling at office and stress management sessions at workplace, which can definitely help in reducing absenteeism.

Introducing Employee Wellness Programs

A company cannot succeed with unhappy and unhealthy employees. Since employees spend most of their time in the office, introducing suitable employee wellness programs including annual health checkup can help to maintain health and fitness of the employees. The corporate companies can get customized executive health checkup plans where they can have health checkups according to their need. A healthy employee is an asset to the company and is always available to work more productively.

Efficient Appraisal and Rewarding System

Modern employees must be served with efficient performance appraisal and rewarding systems for their performance. This is a great way to motivate them and develop positivity within them. It also satisfies the employees and makes them happy. Employees believe that their work is appreciated and thus are encouraged to do better.

Lend a Helping Hand to Your Employees

Sometimes the employee might be going through some personal issues which are difficult to handle. The personal issues may include psychological issues, relationship issues, financial issues etc. Create an environment where the employees can easily discuss their problems and will be able to find out the solutions for the same. The company can offer an option of working from home for some time.
When employees attend office without any absence, they work better as a team; they witness the results of their work, which encourages them to do more together. For a corporate company, healthy and happy employees continuously contribute to company's profit and success. Regular corporate health checkups are the perfect solutions to the problem of absenteeism. Want to get customized health checkups for your employees, get in touch with us through the inquiry form and we would love to help you.